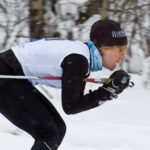 Format: Classic Technique. Individual time trial followed by Heats.
When: Sunday January 13th, 2013 POSTPONED to February 17th, 2013
Where: Mt Evergreen Kenora, ON
Organizers: Kenora Nordic Trails Association
Registration closes on Wednesday, February 13, 2013 at midnight. Late registrations will not be accepted. Everyone previously registered is still registered. No need to register again. Check the confirmation page if you are in doubt.
Participant must be a member of a CCSAM affiliated club.
Cost: $40 Juvenile and older. $20 Midgets and younger.
Race Day Schedule:
9:00 AM General Information Session and Bib Handout
10:00 AM Time Trails
11:30 AM Sprints
Medal presentations will be made for the PeeWees and Midgets after their medal events. All others will be made at the end of the event.
The Mt Evergreen Restaurant will provide menu items or a daily special for purchase for all participants.