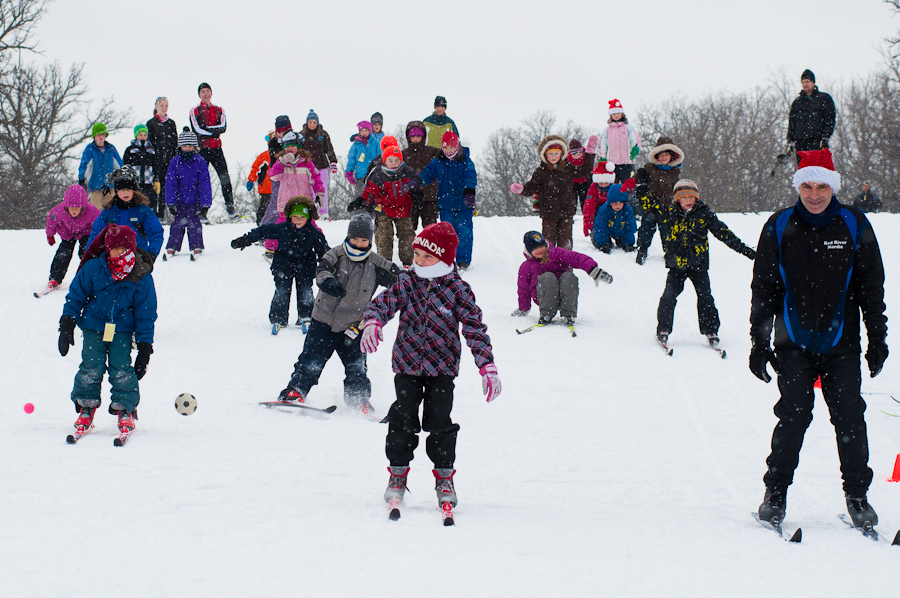 ---
Jackrabbits is the national Skill Development Program (SDP) for youth that was developed in Winnipeg in 1975.
History of the Jackrabbits ski program
---
The Jackrabbit method uses fun, fun, and more fun to teach cross-country skiing techniques. Games and relays form the core of the program, but along the way kids and their adults gain skill, balance, strength, and endurance.
Jackrabbits programs typically begin in the fall. They may include running, soccer, hill striding (with ski poles), and lots of games and relays. Through the winter, participants move onto snow, in all types of winter conditions, to try and do many of the same games while wearing skis! The program usually wraps up in March.
Most programs mix tidbits of technical ski instruction into the fun and games. Some groups incorporate additional snow time in the form of outings, special events, or fun races. When the weather becomes just too cold, programs often move indoors for hands-on waxing instruction, equipment discussions, and basic nutrition (often over hot chocolate!). Each group determines its own program schedule, but some common 'festival' events are planned with other clubs.
Parents and guardians are encouraged to participate at every level of a Jackrabbit program – organizing, teaching, or just plain having fun with the kids!
Jackrabbits is proven method for learning how to ski. There are over 10,000 participants nation-wide, and there's a long list of provincial, national, and international level athletes that started out in the program (it's not unusual to see these athletes 'break training' by dropping in to have some fun!).
Community clubs, recreation centres, and school boards are invited to set up their own Jackrabbits program. No club or group is too small. CCSAM can help get a program started.