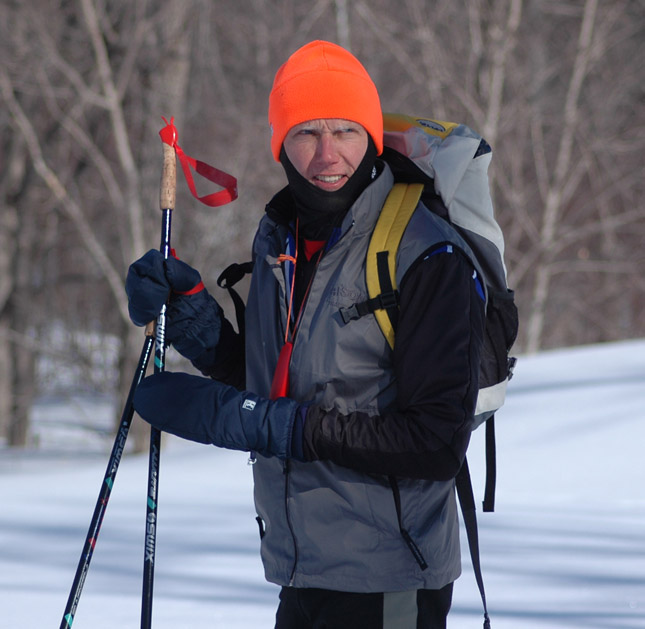 Chris McCubbins was born in Enid Oklahoma in 1945.

As a youth, he never got a hit in Little League baseball, he was the last person to be selected in school yard games, and he was the last player to be substituted into basketball games in the Church league. He did not make the Junior High track team.
At Enid High School in 1962, Chris went out for cross-country running in grade 11, and was the fastest runner on the team. His mile time on the track was 4:41. The next year, he won his conference in cross-country running, He was sick for the State Championships, but ran a 4:24 mile, which placed him 3rd.
Chris attended Oklahoma State University from 1963 to 1967. In 1965, he placed 5th in the NCAA cross-country running championships. Two years later, he won the NCAA steeplechase championship, and later that summer he won the gold medal for the USA in the steeplechase at the 1967 Pan Am Games, right here in Winnipeg. He also finished first at the Europe vs Americas Steeplechase in Montreal.
In 1969, Chris represented the USA at the world cross-country running championships in Scotland, and in 1969 and 1970, he competed in modern pentathlon for the US Army, placing 5th in the national modern pentathlon championships in 1970.
Chris moved to Winnipeg in September 1970, started teaching in the Winnipeg 1 School Division in 1974, and became a Canadian citizen in March 1976.
In 1975 (representing Canada), Chris ran a 10K in 28:16 at the Montreal pre-Olympics meet. That time still stands as a Manitoba record in the 10K. In early 1976 he ran a 5K in 13:44 in Knoxville Tennessee. At the 1976 Summer Olympic Games in Montreal in the 10K race, he had not fully recovered from a groin injury, and ran a personal worst.
Chris later represented Canada at a world cross country running meet in Glasgow Scotland, and his last international race was at the world cross-country running championships in 1984 in New Jersey.
In 1986, Runners' World magazine rated Chris as the #4 masters road runner in the world, and in 1987 he set a North American record for Masters in the 15K: 45:34.
Chris was inducted into the Manitoba Sports Hall of Fame in 1999.
Chris started skiing in 1974 on a pair of woodies from Fresh Air Experience. He claims he was a terrible skier, and his skiing partners even counted the seconds between his falls. When he got to where he fell less than 10 times during a ski outing, he felt like he was doing great. He basically ran and slapped like crazy, but he enjoyed being out in the winter on the snow.
In 1985 he was still a pretty horrible skier, so he took his first ski lesson from Ihor Barwinsky
His first race was in 1993 at the Freeze Yer Gizzard in International Falls. He claims he was still running more than skiing on skis. That's hard to believe when you see Chris' classic skiing today. (For example, in the 30K at the 2005 Manitoba Loppet he finished 3rd of 19 Male Masters, even though he was the 2nd oldest skier in the race.)
Chris just really likes to ski. He likes it for the same reasons that have always made cross-country running his favorite way to train as a runner: his favorite places to exercise are in parks and forests.
Chris spent almost his entire 27-year teaching career with early years students in the Winnipeg 1 School Division at Kent Road, Riverview, and David Livingstone schools. He retired in 2001 at age 55.
The inaugural Great Get Off Your Butt and Ski was held in February 2003. It was Chris' idea to organize an event to raise money that could fund a ski program for Inner City kids, and he's the one who administers the program and is out on the snow with the kids each week at the Windsor Park Nordic Centre.
For all of his adult life, Chris has been involved in outdoor fitness activities like running and cross country skiing, and for over 30 years he's been working with young kids. CCSAM is proud of the work Chris has done with the Great Get Off Your Butt and Ski and the Inner City Kids' Ski Program, and on behalf of all those kids who wouldn't otherwise have to opportunity to ski, we thank him for his efforts.
Chris McCubbins passed away on August 21, 2009 after a six month battle with leukemia. On August 18, 2009, the Inner City Kids' Ski Program was renamed the Chris McCubbins Inner City Schools Ski Program, and the Great Get Off Your Butt and Ski event was renamed the Great Get Off Your Butt and Ski in honour of Chris McCubbins.