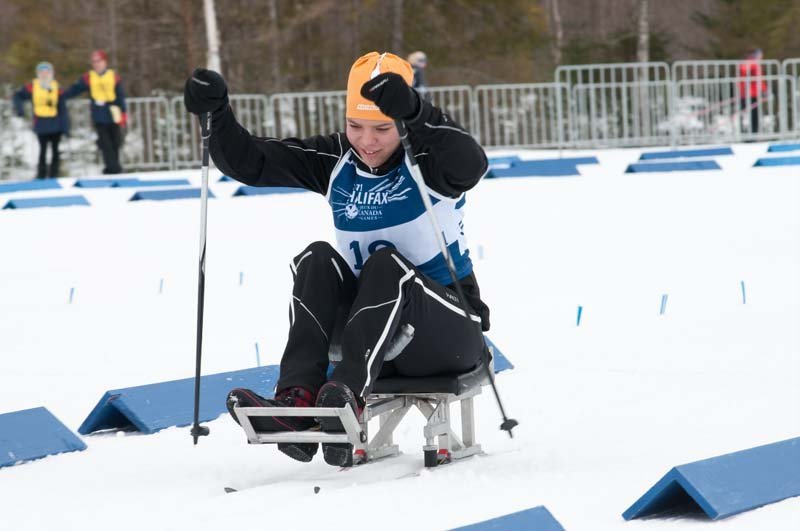 Adaptive Skiing or Para-Nordic is for individuals of all ages and abilities who have physical impairments requiring the use of modified cross country ski equipment and facilities.
CCSAM is committed to developing and delivering programs for skiers of all abilities, and we are working hard to engage volunteers and secure funding sources to establish and sustain programs that make cross country skiing accessible to everyone.
Current Programs & Equipment
CCSAM & the Kenora Nordic Trails club (Mt. Evergreen, Kenora) each have a sit ski that can be used by individuals with reduced lower limb mobility. Contact CCSAM or KNTA for more information.
Windsor Park Nordic Centre coordinates a ski program for the visually impaired through a partnership with the Manitoba Blind Sport Association. The program runs Sunday @ 2pm starting in mid January. Contact MBSA to register.
Volunteers Needed!
To find out more about how you can get involved please contact the CCSAM office.
Para-Nordic Winnipeg
We offer an opportunity to participate in cross country skiing despite a person's physical or visual impairments.
Our program began with recruiting participants for the Canada Winter Games.  We were fortunate to have two very keen athletes willing to train and compete at this level right from the start.  Typically a program begins from recreational roots then evolves over time – we are now able to offer patrons an opportunity to give our sport a try for fun, and/or participate in a beginner/recreational focused program.  We believe that establishing a good grass roots program will foster future competitive athletes in our sport of cross country skiing.
First Contact / Beginner Program
We have experienced and excellent coaches that will provide a great skiing experience. Our coaches are certified NCCP and CanSi, and have experience with guiding visually impaired skiers and assisting  persons with mobility impairments.   Our program is for persons with full or partial visual impairments, persons with mobility impairments (spinal cord, low back injury, degenerative muscular diseases, cerebral palsy, and amputations).  As mentioned above, we presently have our Blind Ski Program on Sundays at Windsor park at 2pm.  All ages are welcome, and first timers too!!
For our mobility impaired skiers – First contact times are on Sundays at 1pm.  Please call or email Mary or Karin prior to attending, as we want to ensure our site can meet your needs. We do have an alternative site if Windsor Park cannot meet your needs.
Mary Montgomery, Paranordic volunteer co-ordinator/coach 204 667-0939 marymagoo@hotmail.com
We strive for an inclusive program model, and if a person does want to continue with cross country ski development, then we will accommodate.  Presently our competitive athletes are training with able bodied skiers in established programs.